Okay, let's just get this out of the way. Every time someone talks about Starwood points, all I can think about is the episode of Broad City where Abbi accidentally gets super high and charges $1000+ of groceries at Whole Foods to her Starwood credit card that she got because she thought it would make her feel more like an adult. To be honest, it seems weird that all these serious points blogs write endlessly about the Starwood card, because I associate it with Abbi's giant blue imaginary friend named Bingo Bronson.
Anyway, aside from strange pop culture associations, I guess I don't really get the big deal about this card. I understand all the benefits – chief among them that you get a 5000 point transfer bonus when you transfer 20,000 Starpoints to airlines (for an average earning rate of 1.25 points per dollar), and I realize that they have really good transfer partners, including Alaska and American. Still, though, the card is kind of weak in a lot of ways, isn't it? First of all (and the Devil's Advocate guy on Travel Codex already mentioned this), you aren't *really* earning 1.25 points per dollar, just like points aren't *really* worth actual money. You have to get 20,000 points first in order to get the 5000 point bonus, and since the card only earns 1 point per dollar, that's gonna take a long time. You're "earning" that extra 1/4 point per dollar in the form of a futures contract on a transfer that you'll make at an unspecified point. You don't have it until you hit the 20,000 threshold, which means your entire earning and redemption strategy has to conform to 20,000 point increments. And the minute you top off an account with an odd number of Starpoints, you just blew up the entire value proposition people cite with this card.
Here's the thing: last month, I earned well over two points per dollar on my Everyday Preferred card, meaning that I could earn 25,000 points on this card WAAAAAY faster than I could earn 20,000 Starpoints. It's not as if Amex's travel partners are super shitty either – you get reasonable business class awards to Europe via Aeroplan (though some – but not all – include fuel surcharges), other Star Alliance awards with ANA or Singapore, OneWorld redemptions via British Airways, and even competitive partner awards with Delta (which still has some value for Skyteam partner redemptions). Everyone's all up in arms about Amex's British Airways devaluation, but when they make it *so* easy to earn points, it doesn't sting that bad. I could stick with Starpoints or Ultimate Rewards if a 1:1 transfer rate were important to me on principle, but given the earning potential of an Amex card portfolio (especially if you combine the Gold and Everday Preferred cards), you'll earn circles around either of those other cards, more than offsetting the devaluation.
I suppose I sound like a Membership Rewards fanboy, and I should admit that I am… and also that I recognize that part of that might be due to being very heavily invested in MR right now, meaning I may have an instinct to defend it. I'm not denying that fact, especially since it's really easy to find bitter message board comments about how MR has lost a lot of value as a program. But I don't think that makes any of my arguments untrue (such is the advantage of having a blog with no readers).
But anyway, back to Starpoints. I think it's significant that the sign-up bonus kinda sucks. You get 25,000 (or [GASP] 30,000 for the next month), which means that after your first amazing transfer bonus, you'll have 5000 orphaned points for months while you build up another 15,000 points. Compared to a farily-easy-to-find sign-up bonus on the Amex Gold Card of 50,000 points, I can't see how this card stacks up. Are Starpoints really worth 2x Membership Reward points? For big spenders who want to have skin in multiple programs, it certainly doesn't make sense to ignore the Starwood program, but for most people making less than $100,000 year, it's just too hard to put enough spend on the card to get meaningful rewards (unless you're aggressively manufacturing spend, which most people don't do – and the people who tout the Starwood card don't just recommend it for MSers). The most common argument for this card is that it's best for spending that doesn't fit into other bonus categories, but (big surprise) I still don't agree with that. Most point valuations peg the Starpoints as around 10% more valuable than MR points. So if you're earning 1.25 Starpoints per dollar, that equates to 1.375 MR points, which is still less than the 1.5 minimum earning rate on the Everyday Preferred.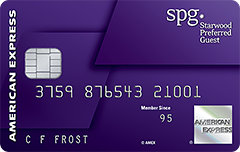 Okay, okay – the transfer partners. They're the best. I'm not going to argue that point… but if you can't earn enough points to redeem, what's the use? There's more water in the ocean than there is in a lake, but if you can't drink saltwater, what good is it? And one other thing: if it's so damn important to be able to transfer to American and Alaska, why not just sign up for their co-brand cards and collect a bunch of miles that way? You can get 25,000 Alaska miles just for opening the card (plus a $100 credit), and Citi has an offer for 75,000 miles on their American Airlines premium card. What's more, those bonuses are recurring, whereas you only get your precious 30,000 Starpoints once between now and when you die.
Okay, so obviously every program has its high and low points. I just don't agree that Starpoints are the best currency for most people, given that anyone who isn't a big spender is going to have a super hard time racking up points the way it's possible to do in other programs. Lucky had a curious argument about the value of Starpoints recently, saying that the difficulty of earning them actually makes them more valuable due to laws of supply & demand. I'm not sure I agree with that (and I'm a bigger fanboy for Lucky than I am for Membership Rewards), since Starpoints aren't tradeable like other commodities whose values are dictated by supply and demand. In the world of points, "value" doesn't mean what something is worth in a resale transaction; instead, a point's value lies in what it can get you, and unless you're putting over $100,000/year spend on your SPG card, it ain't gonna get you much. I'm not anti-SPG by any means, and I'll probably pick up the card at some point in my life if I need 25,000 miles quickly for a program that doesn't have other transfer partners. But the way people talk about this card, you'd think it could give you a reach-around from your back pocket, and I just don't see it.
Requisite question designed to spur a flurry of responses in the comments section: Do YOU think Abbi made the right choice to use her SPG Amex at Whole Foods when she was high out of her mind?