Earlier this week, I flew from London to San Jose in British Airways first class, and hot damn was it a great flight. My expectations had been thoroughly tempered by years of hearing "it's more like a really good business class" over and over again, so I was mostly hoping to be pleasantly surprised, and I most certainly was. Here is my review of the experience, completely with FIFTY SEVEN photos. That's right, I was "that guy" with the camera, all so I could win your approval with this comprehensive review. My day began at the Sofitel in Heathrow terminal 5, and since I neglected to take a single photo there, I'll just offer this by way of review: it's expensive but fancy enough to (somewhat) justify the price. It didn't blow me away, but it was perfectly comfortable for a night, and the location was really what I was paying for more than anything else. Aside from the price, there's no reason to avoid it if you want to stay close to LHR on a layover.
From there I got to breeze through security via BA's newish First wing, although I was slightly annoyed that it was at the far opposite end of the terminal from the hotel. Oh well, my fat ass could use some extra steps.
It's not a dedicated terminal, but the wing is still pretty fancy. The agent checking us in pointed us toward the automated security gates and explained how to get to the Concorde Room from there. There was almost no one at security, and the whole thing took under five minutes.
Okay, so the Concorde Room. Why people rag on this lounge so hard is beyond me. I loved it. I had a really tasty sandwich, chillaxed on a giant day bed while watching 747s and A380s take off, drank some high end whisky, ate some more food because I was pretty sure the food on the plane would be gross, and then left the lounge to go shopping while Justine enjoyed the shit out of her "Firm up and Fly" facial at the Elemis spa. I'm to understand the decor has been updated recently, so perhaps the images in this slideshow will show you a side of the Concorde Room you've never seen before.
And here's the terrace, which is outside in the terminal (but up a level, to remind you that you're literally above everyone else in the airport). It would be cool to have an actual outdoor terrace, but it was pretty cold in London, so I didn't mind being indoors. The terrace has incredible views of the runway, so you can see all the heavies right as they rotate skyward. It's pretty neat. (Sorry that my finger is partially covering one of the photos. Amateur hour, amirite?)
Oh, I also took a photo of that sandwich I told you about. Goddamn it was tasty. I want another one.
I didn't get to enjoy the sit-down dining area, since all the booths were full when we got there. That's okay, though, since I loved my day bed and was happy to spend most of my time in the lounge there.
One pretty glaring deficiency is the bathroom facilities. The fixtures are fine, but the decor is hideous. It's the kind of thing you'd find at a hospital, and not a very nice hospital. I'm surprised they renovated all the seating fixtures but left the bathrooms intact… we're a far cry from the United Polaris lounge (my benchmark for nice bathrooms). I do appreciate that the bathrooms are individual rooms, though. I'd much rather have privacy while I'm doing my business than listen to the emissions of my fellow first class passengers while surrounded by pristine marble.
Shitty shitter aside, I genuinely enjoyed the Concorde Room. In fact, I'd say it takes the new top spot among my favorite lounges, although (as I'll get to in more detail later), my limited basis for comparison definitely gives BA an advantage.
So onto the flight (finally). One area where I wish British Airways would improve is the ground service — unlike Air France and Lufthansa, which will drive you to the plane in a private car, BA leaves you to fend for yourself in the enormity of Terminal 5. Sure, they'll drive you to the plane, but it's not really the same…
Of course, the only benefit of leaving from a remote gate is getting to see a big plane up close, which I did appreciate.
After the cramped bus ride, I wasn't super jazzed for the flight, but my tune changed as soon as I got on the plane. The cabin is beyond sleek — visually it's by far the most impressive airline cabin I've ever seen. The seats on the 787-9 are the newest generation of BA's first class seat, and I'm really glad I ended up choosing this configuration, since I loved everything about the seat.
Privacy is very good, too. There aren't doors that close, but the walls of the suite wrap around in a way that mostly obscures the other passengers (but not in a claustrophobic way). This is the view looking out the "doorway" of my seat:
There's also a ton of storage. You've got a coat closet (assuming you're classy enough to wear a coat, which I wasn't), a big storage compartment next to the coat closet, a mirrored compartment with internal dividers, and a smaller compartment next to the seat where the outlets are located.
Leg room is ample, obviously, but another nice feature is that the ottoman slides forward so you can still put your feet up when the seat is in the upright position.
A few minutes after I boarded, a flight attendant greeted me by name and introduced herself (I forgot her name because I'm a complete piece of shit). The cabin manager then came by separately to thank me for flying first class, after which the flight attendant brought over an amenity kit and some pajamas which were really comfortable. (I'm actually wearing the pajama pants right now as I write this review, although I only wore the shirt on the flight… and I was the only passenger to do so. I should clarify that I was wearing pants during the flight, just not the BA pajama pants.) Surprisingly, the size L shirt fit me (I'm normally an XL guy), but it was kind of short and also really wide. Still comfy, though. (Sorry, no selfie this time.)
(As an aside, can I just say how annoyingly common it is to find shirts or jackets that are too wide and too short? Somewhere there's a 325-pound dude who's five-foot-four going around as a fit model for XL clothes, and if I ever see him, I'm going to strangle him as revenge for a lifetime of ill-fitting clothes.)
Here's the amenity kit, which was fine. I don't really care about branded toiletries, and the only thing I ever usually use is the eye mask and the lip balm. Justine informed me that the company that makes the outer bag is really famous, so there's that. I actually prefer the look of the business class amenity kits, but I wasn't going to be a dick and ask for one instead.
Pre-departure beverages were offered, but I stuck with water. I didn't ask what type of champagne they had, because I don't care about champagne.
Boarding was pretty quick, and soon we were off on the slowest taxi I've ever experienced. It felt like an elephant was pulling the plane down the taxiway, and it took a full 35 minutes from pushback to take-off roll. I did enjoy the traffic, since there were a bunch of airlines I'm not used to seeing (Iran Air, Thai, etc). We also passed a couple A380s, which made me wonder what might have been.
Shortly after takeoff, the flight attendant brought me a menu to look at, and I took a photo of every page because that's what you do when you're writing a review, I guess. Does anyone really read all this stuff?
The service on this flight was absolutely fantastic, by the way. The flight attendant working my side of the plane looked like she was just out of college, but she was super friendly and seemed really enthusiastic about her job. There were a bunch of little things I noticed throughout the flight, none of which were hugely important on their own, but over the course of eleven hours on the plane, they added up. For instance, when she brought me the menu, she confirmed my special meal and then proceeded to describe each dish. That's the first time that has happened, and it was nice to know what to expect rather than having a mystery plate covered with foil plopped down on my tray.
Because it was a daytime flight, the meal service didn't start for about an hour, although they proactively offered drinks as soon as we were airborne. I started with a Diet Coke and then kicked it up a notch and ordered a Johnnie Walker Blue Label. Somehow I had never tried it before, despite being an avid scotch drinker for ten years. In case you're curious, it was fine although fairly bland, especially given the price. Still, I wasn't exactly looking for some cask strength industrial paint stripper, so I didn't mind.
So the flight was off to a good start. The seat was great, the service looked like it was going to be really good, the captain announced a mostly smooth flight, and I had some high-end whisky. However, it really kicked into high gear when the meal came out. The first course consisted of the dreaded cold roasted vegetables, but these were in a pesto sauce that was actually delicious. I'm not over my hatred of the concept of cold roasted vegetables, but this was about the best I could have hoped for.
Then the main course came out — a curry with plaintain and coconut shavings. Holy freaking god was this good. In fact, it may have been the best dish I ate on our entire vacation. (Oops, I forgot to photograph the bread before I ate it, but I bet you can imagine what it looked like.)
That weird blue drink you see in this photo is Schweppes Bitter Lemon, which is so goddamn good I kept ordering it throughout the flight. I finally drank all the cans they had in first class, so the delightful flight attendant went searching through the other galleys for another can of it for me. She didn't find one and was way more apologetic than the situation warranted, which made me worried that it's common for first class passengers to lose their shit when they don't get their soda of choice.
Finally, my vegan meal included a fruit plate for dessert, but the flight attendant brought the menu back and asked if I wanted one of the non-vegan desserts too (which I clearly did). It was a chocolate thing, and it was fantastic.
I should also point out that Justine really enjoyed her lamb shank, and she's the pickiest eater I've ever met. I can't ever remember her saying she liked airline food, even in premium cabins. Honestly I'm a bit shocked she liked the food so much, but the fact that she did means that BA's catering must be phenomenal.
After dinner, the flight attendant offered to make up my bed, which included a mattress pad as well as a thick blanket and an extra pillow. One nitpick about the seat is that it didn't go completely flat, although it felt pretty close. I don't know if this was an issue just with my seat, or if they're designed that way to compensate for the plane's nose-up position during the flight. Anyway, the bed was really comfortable, although I wasn't able to sleep. I did have a relaxing time listening to music and watching the airshow, though.
The screen is enormous, by the way. I don't have a TV at home and only really watch stuff on my computer, so it was kind of funny to be watching movies and TV shows in a larger format than I'm used to at home. Oh, and here's a picture I took because it looks like it says "NORWEGIAN SEX" in the corner of the screen.
Because British Airways first class is so classy and elegant, I wanted to make sure my choice of viewing material was suitably high brow. That's why I chose American Dad, since I can think of no more refined entertainment than a Seth Macfarlane cartoon.
The biggest negative about the flight was the lack of air vents, although I got a surprising amount of cooling from the little USB fan I bought after seeing that @thatjohn guy on Twitter recommend it.
In another example of excellent service, when the flight attendant saw my fan, she immediately offered to turn down the cabin temperature, which I really appreciated. While I hate it when the cabin is too warm, I also didn't want to spoil it for anyone else who might have been comfortable… or at least I didn't want to ask to spoil it for anyone else. Ergo, I was grateful she took the decision out of my hands.
Another example of great service: mid-flight, I was feeling peckish, so I inquired about the snack situation. She mentioned "crisps," which sounded good, so I asked her to bring me a bag. She then came back a minute later with two flavors of chips as well as some caramel corn and a refill on my drink. Like I said before, this in itself doesn't make or break a flight, but it was clear that she was trying to exceed my expectations at every step, which went a long way toward making it such a great flight.
With around 90 minutes left in the flight, it was time for meal number two, which consisted of a salad and a Thai curry that was pretty decent. It wasn't as good as the main dinner course, but it was better than most in-flight meals I've had.
Shortly thereafter we landed in San Jose following a weirdly twisty approach, and so ended the best flight I've ever had.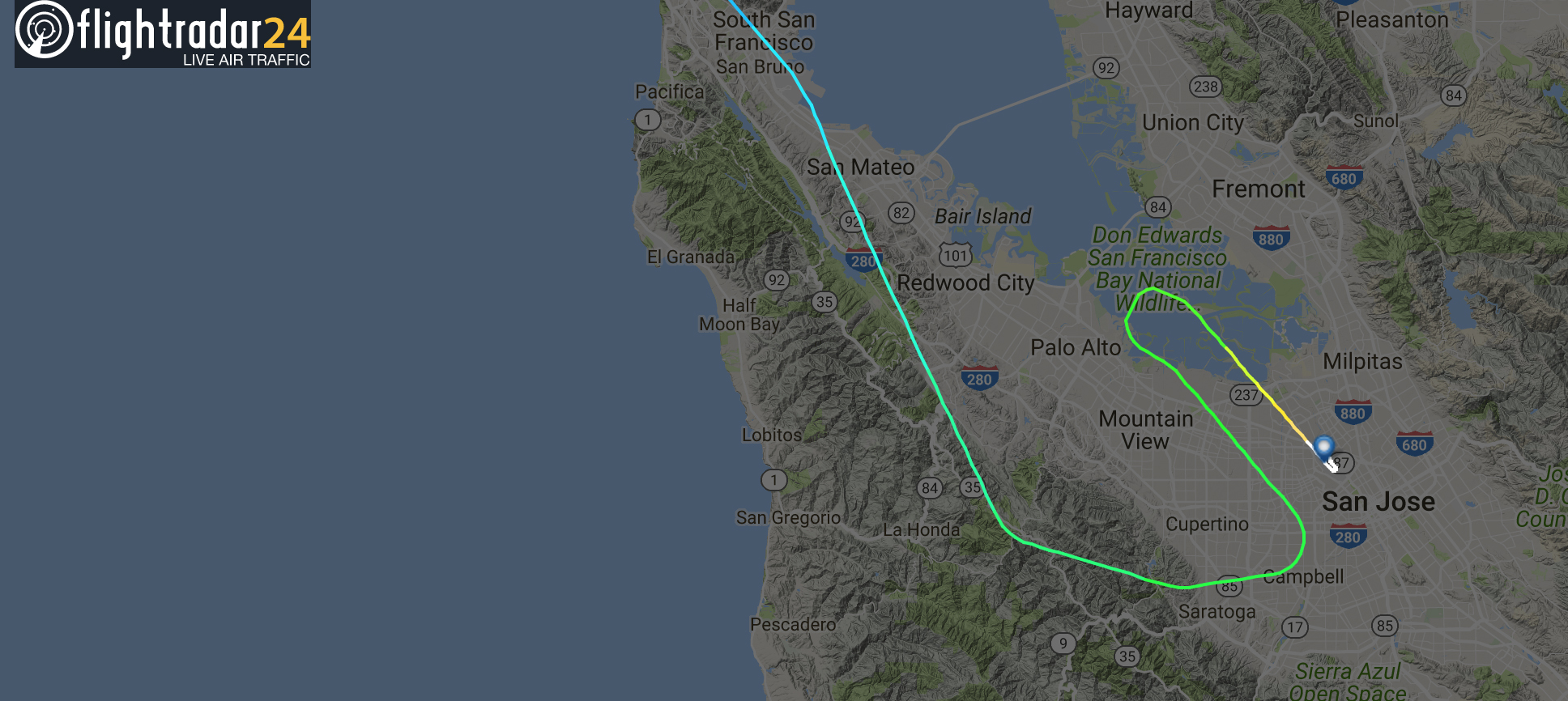 So let's get to the heart of the matter… was British Airways first class an actual first class experience, or was it just a nice business class? For the purposes of this review, I'm considering it alongside other European and American airlines, since I can't imagine you'd ever be in a position where you were deciding whether to fly British Airways or Cathay Pacific. While I don't have first-hand experience with any of them (aside from United Global First), I'll go to the mat that the seat is comparable. It may not be as roomy down to the square inch, but it makes up for any deficiency in the spaciousness department by being so goddamn sleek and elegant. The polished surfaces, stitched leather accents, brushed metal, and quilted fabric all add up to one drop-dead gorgeous suite.
Also, unlike BA's other first class seats, the 787-9 seat is open from edge-to-edge. While the A380 and especially the 747 seats taper toward the foot end like a standard reverse herringbone seat, the 787 seat is open underneath the shelf, which makes sleeping and lounging much more comfortable. To illustrate, I spread my legs as far apart as I could and took a picture. ("I spread my legs as far apart as I could and took a picture" is not something I should make a habit of writing.)
That's a first-class leg spread right there, admit it. I recognize that the foot end isn't as open as it is on Lufthansa/Air France/Swiss, but this seat has significantly more room than any other business class seat that I can think of.
As for food, I'm not the best judge of catering given my special meals, but again there are some pretty first-classy things about the meal I had. Take my fruit plate, for instance. See that dragon fruit? D-fruit is a first class fruit, no two ways about it.
Sure, the ground experience is lackluster, but I maintain that the Concorde Room is a really nice lounge that's unfairly maligned. I'm sure that I would scoff at my praise of the Concorde Room after a few minutes in the SWISS first class lounge in Zurich, but it bears mentioning that no matter how good SWISS or Air France first class may be, you can't book award seats on either. Ditto Lufthansa unless you have the flexibility to book last-minute.
So if the choice is between paying out the nose for SWISS or Air France or accepting a slightly worse experience on BA using miles, I'll choose BA every time. I'll admit again that some of my positive feelings toward British Airways stem from inexperience, but that's okay. Most people aren't professional reviewers who have experience with every international first class product, and for those people, I'm confident saying that British Airways first class (at least on the 787) is a clear step above any business class I've ever experienced.
I'm curious about others' experience with British Airways first class. Am I nuts for rating it so highly? I'm certainly surprised at how much I liked it, but given the letdown that was KLM's business class, it was great to end the trip with such an amazing flight.
You liked this post enough to read to the end, but did you like it enough to give me money? If so, check out my Patreon page.